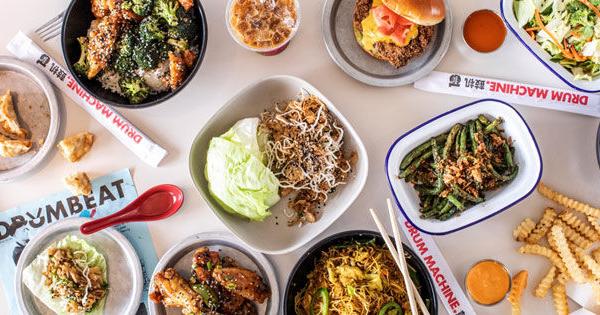 Tin Drum got a bit lost in the reshuffle after a private equity purchase, but is now on track to grow again with a new market and a new franchise push, once again.
There were so many prospects who wanted to open up to the world, finally the business was ready to take off, "said Marketing Director Amisha Popatiya. "It took a few years, we joined in 2018 and it took a few years to build the foundation. "
As Franchises Times covered in 2020, the pan-Asian Atlanta-based concept brand has seen a few ownership changes in recent years before Popatiya, her husband, and original founder Steven Chan returned to the brand.
A new development agreement was signed in 2020, then COVID arrived. The past few years have shown how difficult it has been for small franchise brands, especially those without drive-thru or massive resources, to overcome the various challenges associated with the pandemic. Sill, Popatiya said the brand has stood the blows and is poised to relaunch franchise development, this time with Raintree, a franchise development company.
Houston's first restaurant, which is part of the five-unit deal signed in 2020, is also slated to open "in early 2022". This will mark the first location outside of the Atlanta area and No. 11 for the brand.
Although it was not an easy time, Popatiya said the existing restaurants have done quite well.
"Our product is traveling really, really well. During the pandemic, we realized we were pandemic resistant, we did it and we are proud, and we came out positive," Popatiya said. "I'm glad we worked so hard, endlessly around the clock to look at what consumers wanted at the time. We didn't have a plan to get us through the year, it was changing with each passing year. day."
Popatiya said that she and the team are also improving the business further. She highlighted two key projects that will take the concept further: better technology and a new beverage program.
Technologically, Tin Drum has always been quite tech-savvy for the size of the brand. Popatiya said they've taken this a step further for consumers and franchisees. On the consumer side, applications, ease and efficiency are what they are looking for. Inside the concept, she said technology is a way to support restaurants and franchisees without massive support staff.
"At the heart of the tin beater [operator] most importantly, we rely on a combination of technology and people, "Popatiya said. "We have two systems that we use a lot: Jolt and MeazureUp. Jolt provides everything from recipes to daily checklists and label printing, the basics that an operator needs to run the show smoothly and very efficiently. MeazureUp is an audit system to ensure that franchisees meet standards.
Both help do all the typical things a support staff would do and help franchisees find information in their own system instead of calling a small support team.
One of the biggest updates was the new beverage program.
"Towards the end of 2020, I realized that sometimes you hit maximum capacity when you look at sales, there isn't a lot of capacity," Popatiya said. "I wanted to create a new source of income in Tin Drum. My team (which is myself and my assistant) we are creating this new beverage program."
She said it was about carving out about 100 square feet of the restaurant and turning it into a beverage station for bubble teas, milk teas, and slushies. The program clicked and it soared to 20 percent of the company's sales.
"We started with our prototype store in Decatur," Popatiya said. "Immediately we were selling 100 teas a day, that's when I knew it was a success."
She said all new updates and finishes were looked at from a franchisee perspective, which is how she and her husband started with the brand initially. She said she is particularly keen for the concept to work for non-restaurateurs entering the brand, a target demographic she wants to fit into the concept, although she is not saying no to a large multi-unit operator.