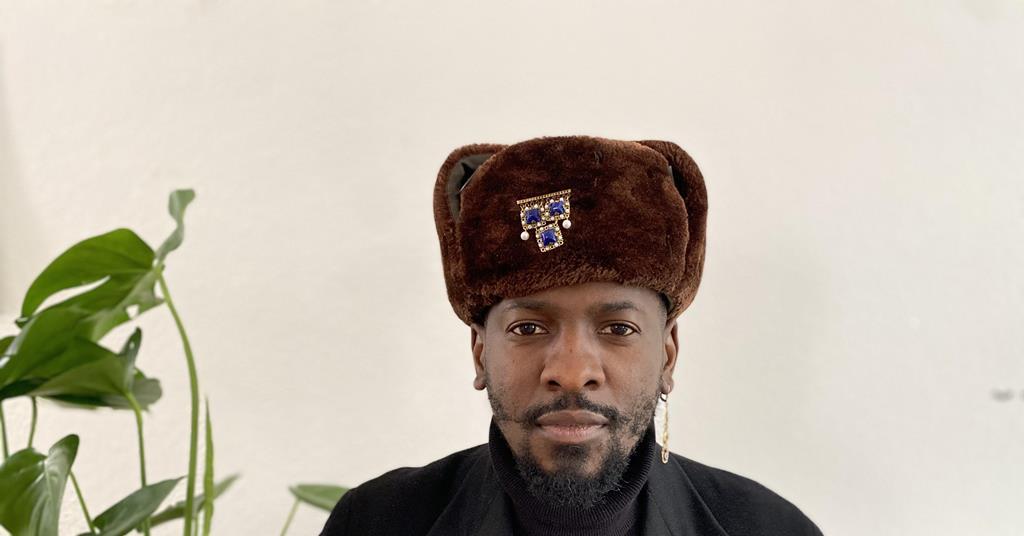 After the worldwide success of It's not a funeral, it's a resurrection, writer and director Lemohang Jeremiah Mosese plans to return to his native Lesotho to shoot his second feature film, The chattering of teeth end of 2023.
Set against the backdrop of Lesotho in 1852, the story follows a father and son who took refuge in a mountain-top fortress town, inhabited by a population of outcasts trying to rebuild their lives but still haunted by their war experiences and siege. The idea for the film "has a lot to do with my childhood, I create a lot from my childhood memories. I wanted to make a film about generational trauma or places or events that reveal our true selves, "says Mosese. "I'm a history student, I like to study the behavior of human beings during the plague or during the war and how humans react to that, to make sense of life."
The project is produced by Cait Pansegrouw and Elias Ribeiro of Cape Town-based production company Urucu. Pansegrouw and Mosese will present the project at the co-production market of the fourth edition of the Atlas Workshops project incubator event of the Marrakech International Film Festival, which will take place online from 22 to 25 November.
It is now in development with Mosese in the processing phase. The project is supported by the Hubert Bals Fund in Rotterdam, but it needs more development funds to allow Berlin-based Mosese to return to Lesotho to write the screenplay, start the first casting discussions and plan the film. training and awareness that will be part of the production.
"It's an urgent situation to get more development funds," Pansegrouw says. "Lesotho is a place without any infrastructure or funding instrument for the film."
Mosese explains that it is important to him that his films can help develop infrastructure and skills in Lesotho, a small landlocked country completely surrounded by South Africa.
"It's my challenge, spending time training the talents there in front of and behind the camera. This is not a funeral was a community project and I want to work even more with the communities on the next film. We can educate everyone from runners to gaffers. I would like to work with non-actors to train them, and that takes a lot of energy. I want to push as far as possible. I want to have at least 80% of the Lesotho cast, "he adds.
Development time will also be important, explains Pansegrouw "to give more time to think about how we are going to structure the training aspect. We tried part of this with This is not a funeral, but it was more on the fly. We would like to plan it further in advance.
They hope to shoot in the Thaba Bosiu mountain range where the story takes place; Mosese grew up with stories from that time and is now doing more historical research.
Pansegrouw said the 1852 setting would not be the biggest hurdle in production, as they will shoot in an isolated mountain where some places have no roads, electricity or running water. She explains, "The truth is that people, especially in the mountains, in the deep, deep, deep rural areas, live as if it was in 1852… That way, I'm not too intimidated by the period.
This is not a funeral has won over 30 festival awards, including a jury award at Sundance. This was Lesotho's very first Oscar nomination. This is not a funeral contributed enormously to the visibility of the new project, "said Pansegrouw. "It was such a distinct film and the industry believes inherent in Lemohang's cinematic voice."
"The time has come for Africa"
Urucu is one of South Africa's fastest growing production companies with a development roster that includes Sandulela Asanda Black burns fast (a remake of the Brazilian film Moon); Ng'endo Mukii's Goat Sunday from Kenya-South Africa; John trengove A shadow crawls through the silver trees; by Kantarama Gahigiri Tanzanite, set in 2045 in Kenya and a co-production between Kenya, South Africa and Switzerland.
The Urucu team also co-founded the Realness Institute in 2015. The Institute manages six program components: a writers' residency (now in its seventh edition); the Creative Producer Indaba (a laboratory in partnership with IFFR, EAVE and the Sundance Institute); the Academy of Industry of Southern Africa-Locarno; the episodic content development lab supported by Netflix; and the Development Executive training program; and a project incubator soon to be launched with Storyboard, based in Switzerland.
Netflix has already commissioned one of six projects involved in this first round of the Episodic Content Lab, Bad influencer by Kudi Maradzika, an actress, screenwriter, director and producer born in Zimbabwe and based in South Africa.
Elias Ribeiro, co-founder and creative director of the Realness Institute, also confirms that Netflix's support for the program continues for the 2022 edition.
"With the African talent that we meet at Realness, I am blown away by the wealth of stories that remain to be told," he says. "We've been committed to making room for this for the past seven years, and finally, the appetite for diversity has become a global priority. Now is the time for Africa, and because of all this groundwork and transplants that we've been doing over the past seven years, our finger is the pulse of the kind of storytelling that's blooming here, and we are very well placed to simply support local talent and internationalize the work.
He continued, "Now it's about outsourcing the work once it's been incubated, getting that access to international funding and distribution channels. "
Realness helped Mosese develop This is not a funeral when he took part in the project in 2017. "The incubation that Realness gave him early in the creation process really gave him a competitive edge. "
He adds that South Africa has "a fairly dynamic funding system for national directors. There is a national fund and regional funding as well as a tax relief system. Netflix entered the market quite aggressively, followed by Amazon and Disney +. So now is a good time for content creators. Companies like Netflix are committed not only to supporting projects, but also to developing their skills.
Thanks to the partnership between Realness and Atlas Workshops, a project by Sudanese filmmaker hajooj from the 2020 residency was invited to participate, as well as a Nigerian project produced by former creative producer Indaba Wafa Tajdin.