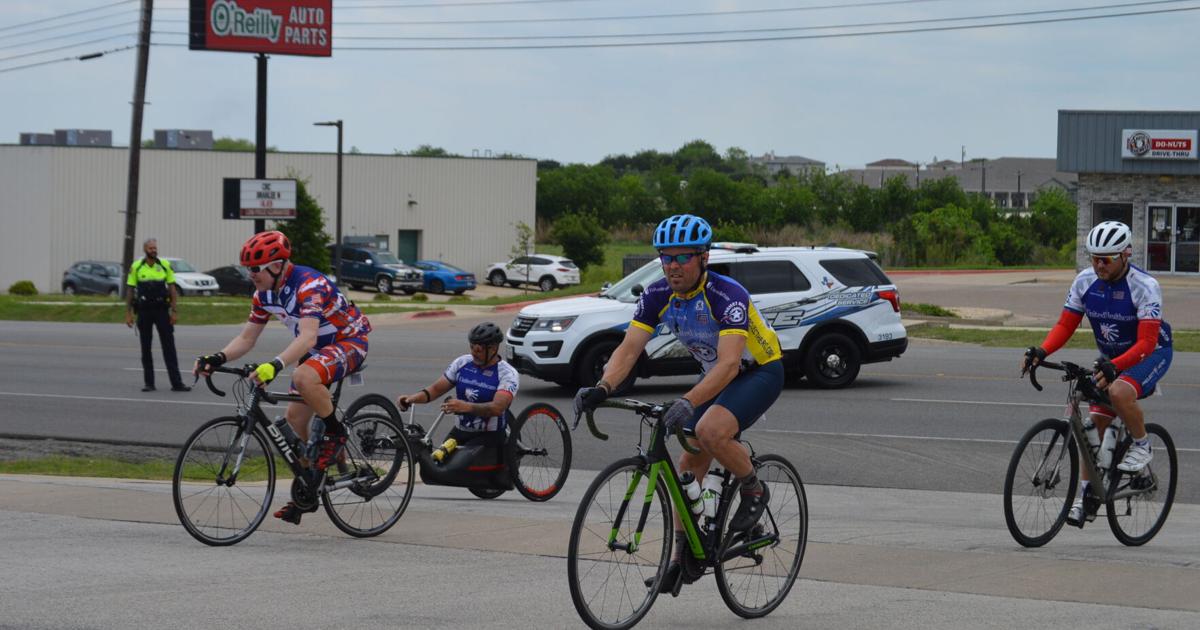 A few dozen wounded warriors passed through Killeen/Fort Hood
As part of an annual cycling challenge from San Antonio to Fort Worth, nearly 40 wounded warriors and first responders made their way to Killeen and Fort Hood last week. Riders had lunch at Cleo Bay Subaru on Wednesday and rode from Fort Hood to Waco on Thursday.
The annual Ride 2 Recovery is hosted by a Project Hero, a national non-profit organization.
Founded in 2008, Project Hero is dedicated to helping veterans and first responders affected by post-traumatic stress disorder and traumatic brain injury achieve rehabilitation, recovery and resilience in their daily lives and to increase awareness. to tackle the national mental health emergency.
The Ride 2 Recovery Challenge series features multiple rides each year, with Texas being the premier multi-day event. Project Hero will sponsor a challenge in August in the Great Lakes region, one in California in October, and one in Las Vegas in November.
Killeen, a man shot by a KPD officer, dies after 3 weeks on life support
A 27-year-old man who last week, after being shot dead by a Killeen police officer in April, is remembered as an exceptional martial arts teacher who made an impact with more than fists or feet .
Ralph "Ralphy" Sebexen, a martial artist and teacher with a black belt, was shot dead by KPD officer Devin Hill on April 5 during an altercation at a Fort Hood Street convenience store.
After three weeks in hospital on life support and at least 11 surgeries, Sebexen died on Tuesday.
This is the second fatal shooting involving an officer by the Killeen Police Department in as many years.
KISD Board Approves 'Historic' Employee Pay Raise
The Killeen Independent School District Board of Trustees has unanimously approved its largest pay increase yet for more than 6,000 district employees.
The board voted 7-0 Tuesday night, approving an 8% general pay increase for all educators evaluated by the Texas Teacher Evaluation and Support System (T-TESS), and a 6% increase for all other employees in the district.
The increase would bring the salary of a new, inexperienced teacher to $56,160 from its previous rate of $52,000. Under the district's proposed pay scale, a newly hired teacher with 20 years of experience would be paid $64,160.
The district approved stipend increases for hard-to-fill positions: $7,500 for bilingual teachers and $5,000 for independent special education classroom teachers. Starting next August, KISD will also pay new teachers a $2,000 stipend to help pay for relocation costs for teachers moving to the district.
Ongoing trial for alleged perpetrators of 2020 murder
Jurors began hearing testimony from defendants charged with the murder of a 24-year-old man in June 2020.
Shareef Raekwon Ali-Barnett was shot and killed on June 14, 2020. Police say he arranged to meet Collier; instead, he was shot and killed during an armed robbery in the 200 block of Evergreen Drive.
Jordan Hampton, 16, has been held in the County Juvenile Detention Center since his arrest on June 23, 2020. He was 15 when the death occurred and he has been certified to stand trial as an adult.
Jordan Hampton's sister Jessica Hampton, 19, is accused of organizing the robbery. She is due on trial for capital murder on May 15.
Testimony in the trial will continue Monday in the 426th Judicial District Court.
9 arrested in Fort Hood-Bell County prostitution sting
Nine men have been arrested in connection with a "sex trafficking/prostitution sting" carried out by Fort Hood and Bell County law enforcement, officials said Monday.
The undercover operation, known as "John Suppression Initiative Operation," took place April 19-20, according to a news release from the Bell County Sheriff's Department, which said law enforcement The order of Fort Hood had also participated in the operation.
Five people were arrested on April 19 and four were arrested on April 20, the statement said.
The 10 most read articles on kdhnews.com from April 24-30 were:
8) "With raises for all employees, KISD Superintendent will get a raise of over $19,000" – https://bit.ly/3OZXSWX