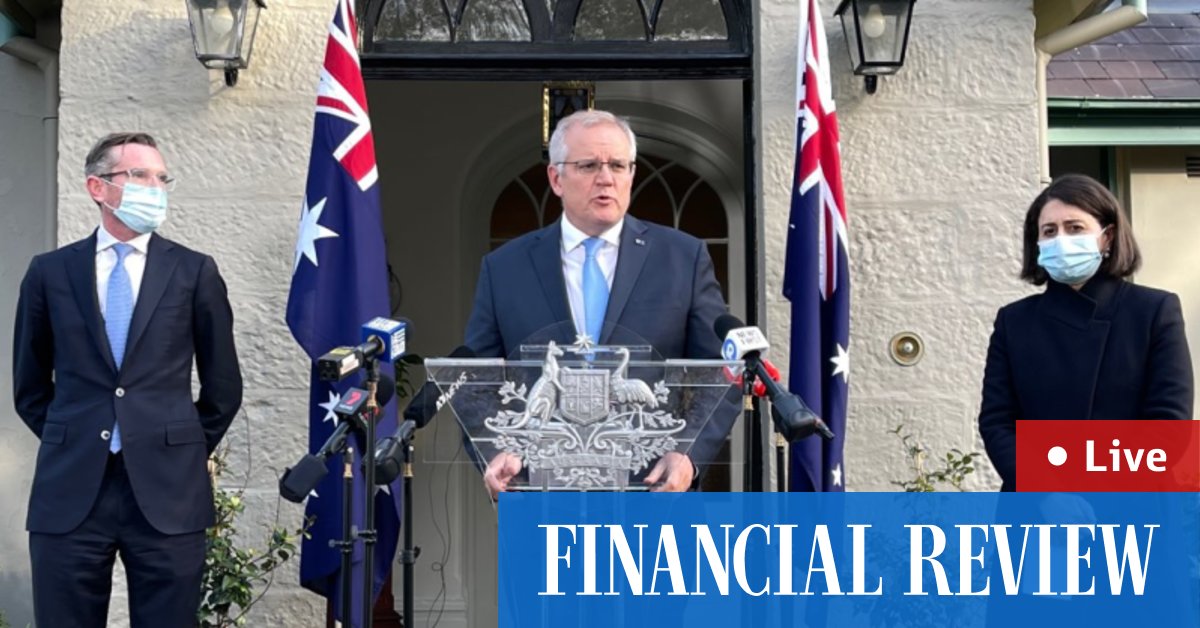 Here is the full statement from Prime Minister Scott Morrison and Treasurer Josh Frydenberg:
The Morrison government is improving its national response to COVID-19 outbreaks with increased weekly payments to households and increasing cash flow for businesses to get them through prolonged lockdowns.
The new national agreements were developed following close cooperation between the governments of the Commonwealth and New South Wales to ensure that additional support is targeted and deployed as quickly as possible under a new agreement cost sharing.
The support program will see an increase in payment for COVID-19 disaster from the fourth week of a lockdown and a 50/50 cost-sharing agreement between the Commonwealth and the NSW government for a new expanded support program for small and medium-sized businesses, implemented and administered by NSW.
This level of support will apply nationwide to any state or territory that experiences an extended lockdown beyond the third week after a Commonwealth hotspot is declared.
COVID-19 Disaster Payments
The Commonwealth will improve and expand the support available for NSW and other states experiencing a prolonged lockdown.
More specifically, the Commonwealth:
Beginning in week four of a lockdown due to a Commonwealth-declared hotspot, payment for COVID-19 disaster will drop from $ 500 to $ 600 each week if a person has lost 20 or more hours of work per week or from $ 325 to $ 375 each week if a person lost between 8 and 20 hours of work.
Make the COVID-19 disaster payment a recurring payment for approved recipients as long as the Commonwealth-declared hotspot and lockdown restrictions remain in place. This will eliminate the need for recipients to recover for every seven day period of a lockdown.
Change the COVID-19 disaster payment so that a person is eligible for payment, including where they still work, as long as they have lost more than eight hours or a full day of work.
From July 18, 2021, COVID-19 disaster payment will be available to people outside of Commonwealth-declared hotspots in New South Wales who meet the payment criteria.
The NSW government will fund all payments outside a Commonwealth-declared hotspot, with the Commonwealth continuing to fund payments to recipients in a Commonwealth-declared hotspot.
This arrangement will be available to other states and territories for future lockdown due to a hotspot declared by the Commonwealth.
Information on the COVID-19 disaster claim process can be found on Services Australia.
Support payments to small and medium-sized enterprises
From week four of the lockdown, the Commonwealth will fund 50% of the cost of a new small and medium business support payment to be implemented and administered by Service NSW.
Eligible entities will receive 40 percent of their NSW payroll payments, to a minimum of $ 1,500 and a maximum of $ 10,000 per week.
Entities will be eligible if their turnover is 30% lower than an equivalent period of two weeks in 2019.
The new Small and Medium Business Support payment will be available to unemployed and employing entities in New South Wales, including nonprofits, with annual revenue of between $ 75,000 and $ 50 million.
To receive payment, entities will need to maintain their full-time, part-time and long-term casual staff levels effective July 13, 2021.
For jobless businesses, such as independent traders, the payment will be set at $ 1,000 per week.
Companies can express their interest from July 14, 2021 on www.service.nsw.gov.au
Support will cease when current lockout restrictions are relaxed or when the Commonwealth Hotspot Declaration is removed.
Commonwealth Business Tax Relief
The Commonwealth will also provide additional support through the tax system, by:
Make NSW's Small Business Grants, including the New Small Business Payments, tax-exempt.
Provide administrative relief to struggling NSW taxpayers, including reduced payment plans, no interest charged on late payments, and variable payments on demand.
Mental health support
The governments of the Commonwealth and New South Wales will provide a $ 17.35 million mental health support program for New South Wales, including:
A boost for crisis and mental health services including Lifeline, free 24-hour support through Sonder, and counseling for perinatal depression and anxiety
Funding of mental health support for culturally and linguistically diverse and vulnerable communities
Support for young people via headspace, Kids Helpline and the Butterfly Foundation
Increasing support for states and territories experiencing prolonged shutdowns is part of the government's plan to ensure Australia's recovery from the COVID-19 recession.
The support is in addition to existing Commonwealth programs such as HomeBuilder, extended instant write-off of assets, additional support for apprentice retention and training as well as record support for women's mental health and safety announced in the budget.
As the pandemic evolves, government support for Australians across the country is also evolving.