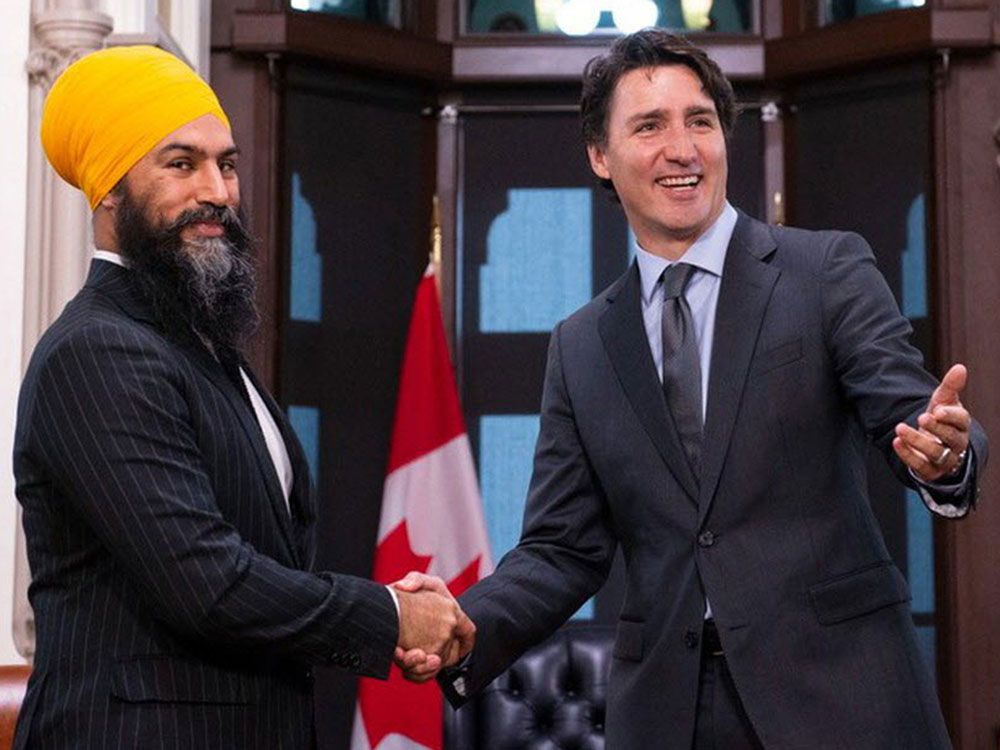 Siding with the Liberals means you're in favor of having carbon taxes on gas and raising them in a time of record inflation
Content of the article
"It's shameful how Big Oil is ripping off Canadians at the pumps.
Content of the article
"Gas prices are up and Big Oil CEOs are bragging about record profits.
"Liberals and Conservatives have rigged the system.
"When you pay more, their well-connected friends earn more."
It would have been a weird tweet at any time, but from a co-Prime Minister (indeed) he tried hard to be weird.
It was Jagmeet Singh who delivered that searing volley, the former NDP leader and now parliamentary bodyguard to Justin Trudeau's Liberals.
Please pay attention to line 3 above, the one accusing liberals and conservatives of "rigging the system".
Singh must realize that rigging oil prices is a criminal matter. So, is he accusing the party (L) to which his party (NDP) has just guaranteed a three-year stay in power, of in fact fixing oil prices in collusion with "Big Oil"? That's after all what the tweet says.
Content of the article
And is he also saying that Justin Trudeau, green for everything but his socks, is secretly and sinisterly fattening the bank accounts of "his well-connected friends?"
Well, Jagmeet, if you mean those things, why, oh why, are you in cahoots with them? Why did you make your party their support and backing?
Do you not follow the logic of your own thoughts?
Do you have proof of this "rigging" Mr. Singh? Let us have it. This is not a comment during question period. It is a dark and profound accusation that Liberals and Conservatives and "Big Oil" have conspired to enrich themselves by inflicting pain and punishment on Canada's poor.
By the way, how do the Conservatives do this? I thought they were in opposition, which offers no influence on politics. Unlike your NDP, which has a big influence on what the Liberals do.
Content of the article
Singh is either confused or lazily flippant in his statements. Or perhaps utterly invulnerable to the overwhelming ironies of condemning the Liberal party and its leader while offering himself and his party as their buttress, shield, scaffolding and support. If the liberals "rig" the system, they cover the liberals. Strange posture for the NDP.
Singh is either confused or lazily flippant
As for "Big Oil", what is it? Something from one of the lesser James Bond films? SPECTRUM of the oil sands?
Big Oil – lead Canada? They cannot even get permission to build a pipeline from Alberta.
Could someone tell Singh that outside of his rhetorical fantasies, Canada is not run by a cabal of oil "billionaires". In reality, he is led by a coalition of his NDP and the Trudeau Liberals. Singh, alas, is the man in power – he holds the fate of an entire government in his hands. There is not an oil executive in the country who has the slightest suspicion of Jagmeet Singh's influence and power.
Content of the article
Also tell him that the cruel cost of gasoline at the pump and oil for homes is a direct result of his blind Canadian anti-oil policy and that of Trudeau. Mr. Singh, the carbon tax and anti-oil policies of your liberal brethren are one of the main reasons that prices have reached punitive heights.
You can't shout about high gas prices, Mr. Singh. You made a deal that allowed them, a deal that endorsed the rationalization that charging the poor in Canada more for essential energy will change — joking pause — the global atmosphere.
Rex Murphy: The Roe leak wouldn't matter to us if Canada had its own legal system

Rex Murphy: Pierre Poilievre's appeal fueled by Trudeau's endless morality
Supporting the Liberals means you are in favor of having carbon taxes and increasing them in an era of record inflation. You know who it hurts the most. Poor people. The unemployed. Blue collars. Anyone in economic difficulty. Precisely all the citizens that in the days of David Lewis, Tommy Douglas and Jack Layton, the NDP made it its mission to protect, defend and represent. It's been a sad transition from 'wake-up work', to being the only real challengers to the 'natural governing power', to its obliging wife and ever-obliging servant. (Ms. Atwood, please forgive the appropriation of your sad red hat heroines.)
Do you really want to help these same poor people, Mr. Leader of what was once the Labor Party? Abandon the opportune coalition. Fight against unnecessary and harmful carbon tax. Lobby for a few pipelines. Talk to some oil workers. Respond to the wants and needs of ordinary Canadian citizens.
Is it so uncomfortable to realize that you were elected as the voice of the opposition?
national post