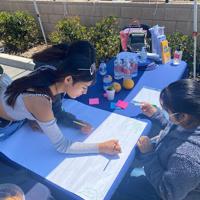 The local non-profit Mixteco/Indigena community organization project runs its backpack drive throughout the month of July.
The organization was established in 2001 as a support system for immigrants from indigenous communities throughout Mexico, who often migrate to Santa Barbara and Ventura counties as farm laborers. Their annual backpack drive raises thousands of dollars in school supplies for students.
"Our goal this year is to raise over $10,000 for the backpack drive," said Rachel Sprouse, event coordinator for MICOP. "We will distribute the supplies at our monthly meetings, and over 300 backpacks are expected to go to Santa Maria."
The organization collects money and donations of school supplies throughout July, with the aim of filling and providing backpacks to more than 1,000 students ranging from elementary to middle school.
"If people want it, we'll gladly accept not just new, but lightly used school supplies," Sprouse said.
The Backpack Reader is an initiative the organization started in 2011 in Oxnard, which has expanded to its office in Santa Maria, 110 Lincoln Street South, in 2019. Before the pandemic, it offered pickup service as needed, but since COVID-19 required registration prior to pickup.
Once fundraising is complete at the end of the month, MICOP will purchase supplies and fill the packs before distributing them by August 13.
Those wishing to donate can visit mixedco.org for more information. For those who wish to register call 805-623-5862 for more information.