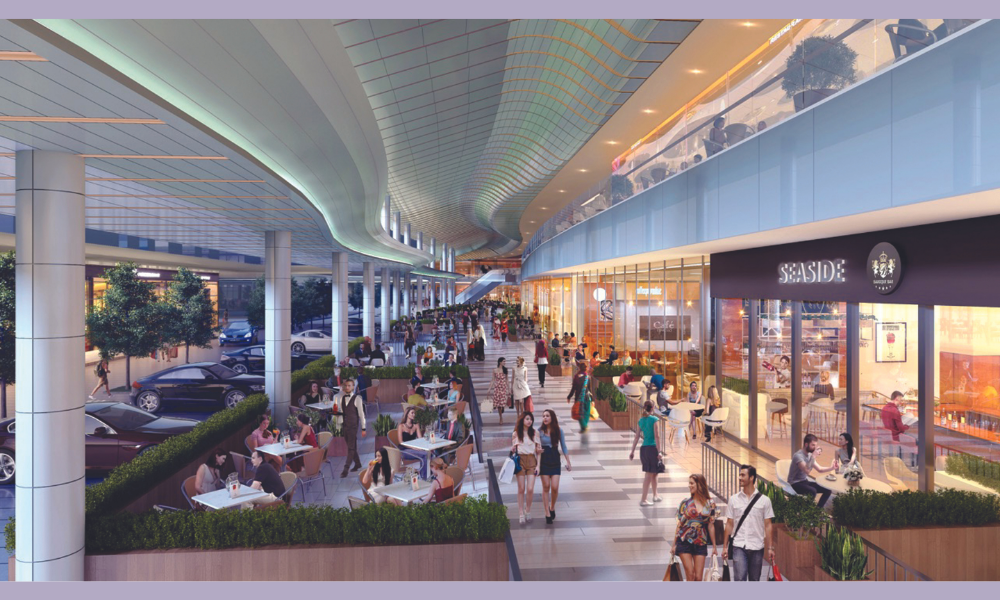 Putrajaya – The most awaited moment has finally arrived! IOI City Mall Phase II will open to patronage on August 25, 2022. Strategically located in IOI Resort City, it enjoys a potential population base of 3.1 million people from neighboring townships in the southern Klang Valley, namely Putrajaya, Cyberjaya, Kajang, Bangi, Sepang, Puchong and Seri Kembangan. Plus, it's about a 30-minute drive from Kuala Lumpur International Airport (KLIA), making it an attractive shopping and entertainment hub.
With the opening of Phase II, IOI City Mall will have a total of 14 anchor tenants with the addition of AEON, Proton, Nitori and MajuHome Concept joining existing tenants such as Lotus, Harvey Norman, Parkson, HomePro and GSC, among others.
There will be over 200 cafes and restaurants in total for food lovers, with new additions such as Kenny Hills Coffee, Bife Charcoal Steakhouse and Din by Din Tai Fung.
Along with adding over 300 outlets, IOI City Mall will have over 700 outlets in total. This will reinforce the mall's value proposition as the most favorable shopping location with sought after brands such as Michael Kors, Hackett, Braun Buffel and Coach to name a few.
Dato' Voon Tin Yow, CEO of IOI Properties Group (IOIPG), said, "IOI City Mall is set to become Malaysia's largest mall with an additional 1 million square feet of net leasable area (NLA), bringing IOI City Mall's total NLA to 2.5 million square feet. It will lead the way as the country's premier shopping and lifestyle destination.
Beyond retail, the mall features the addition of IOI City Farm, an 18,000 square foot indoor edutainment exhibit space that features family-friendly activities to learn about plants and animals. Designed with an "indoor farm" concept to bring the outdoor experience indoors, the new edutainment exhibit consists of three areas allowing visitors to interact and observe over 70 species of plants, cute little animals and fish. The plant zone, known as 'Green Earth', features aquaponic and carnivorous plants, while the animal zone, known as 'Little Rimba', will feature adorable pets such as sugar gliders, hedgehogs, rabbits and fennec foxes. Meanwhile, the aquatic area, known as "Fresh Water World", will feature large sturgeons and arapaimas from the Amazon.
IOI City Mall Phase II will include the new IOI Grand Exhibition and Convention Center, a 40,000 square foot pillarless hall with state-of-the-art facilities that can accommodate 2,000 guests for wedding banquets and approximately 3,000 delegates for conferences. It will also include the IOI Sports Center, the only world-class sports facility of its kind near Putrajaya. This new rooftop sports center will feature a total of 15 badminton courts and two indoor futsal arenas.
These new additions are expected to further enhance the mall's existing attractions. These attractions include existing top notch facilities such as Icescape Ice Rink, Malaysia's largest ice rink recognized by the Malaysia Book of Records and District 21, a 52,000 square foot indoor atrium adventure theme park featuring various attractions; many of which have never been seen in Asia.
IOI City Mall promotes sustainable initiatives such as providing more than 14,000 parking spaces equipped with an automated License Plate Recognition (LPR) system. As well as encouraging contactless payment for a more hygienic experience, the system uses ticketless parking to eliminate the issuance of printed parking tickets, reducing paper waste and carbon ink printing.
In our efforts to instill the importance of environmental ethics through green efforts, solar panels were installed on the roof of IOI City Mall in 2020, which generated 8,533 MWh of electricity, equivalent to a reduction in carbon emissions of 5,922 tCO2 to date. In addition, IOI City Mall is equipped with chilled water thermal energy storage (TES) tanks with a combined capacity of 62,000 m³, which contributes to the efficient use of electricity and thus contributes to reducing emissions. of carbon.
These initiatives are in line with IOI Properties Group's sustainability goal of caring for the environment, demonstrating our commitment to combating climate change and minimizing the impact of our operations on the environment.
About IOI City Mall
The multi-award-winning IOI City Mall (ICM), located in IOI Resort City, will be Malaysia's largest mall upon completion of the mall's Phase II; with 2.5 million square feet of leasable space. It is occupied by trendy fashion brands, supermarkets, cineplexes and food outlets offering exquisite local and international dining experiences. The mall is easily accessible by major highways and public transportation.
ICM is home to an Olympic-sized ice rink – "Icescape" and a 70,000 square foot adventure park – "District 21". Its 7,605-space car park is the first in Malaysia to be equipped with a car finder system that gives customers a sense of security and a hassle-free experience in locating their parked vehicles. Meanwhile, along The Symphony Walk, you can indulge in a myriad of cuisines in an ambience of tranquility and lush landscape.
Visit us to feel the pleasure of an array of tastes, trends and adventures.
Website: www.ioicitymall.com.my / Facebook: IOICityMallPutrajaya / Instagram: ioicitymallmy
About IOI Properties Berhad Group
Spanning nearly four decades in the property development industry, IOI Properties Group Berhad ("IOIPG") is one of Malaysia's leading listed property developers in Malaysia. Over the years, he has successfully developed sustainable townships and business enclaves in sought after areas of the Klang Valley such as IOI Resort City, Putrajaya; Bandar Puteri Puchong, 16 Sierra, Bandar Puteri Bangi and Warisan Puteri, Sepang; and has established a strong presence in Penang (in the Northern Corridor) as well as Johor in the Southern Region of Malaysia. Internationally, the IOIPG has had notable successes in Singapore and the People's Republic of China. The Group has a total land reserve of approximately 9,000 acres.
Besides being an award-winning real estate developer, IOIPG is also known for being one of the few integrated real estate developers that constructs and manages its investment properties such as hotels, golf courses, shopping malls and office buildings. .
As part of its investment property portfolio, it manages a total of approximately 7.2 million square feet of net leasable area, including retail, purpose-built office and others. These properties are mainly located in areas with high growth, well connected, accessible and centered on a high concentration of population. The Group has five hotels classified from 4 to 5 stars offering a total of more than 1,800 keys, namely Le Meridien Putrajaya, Putrajaya Marriott Hotel, Palm Garden Hotel, Four Points by Sheraton Puchong and JW Marriott Hotel Singapore South Beach. The Group's golf courses include Palm Garden Golf Club at IOI Resort City and Palm Villa Golf and Country Resort in Johor.
For more information, please visit: www.ioiproperties.com.my
---
This content is provided by IOI Town Mall.
Interested in having your ads on Malaysiakini? Contact the announcements team at [email protected] or whatsapp on +60 17-323 0707 for urgent matters.