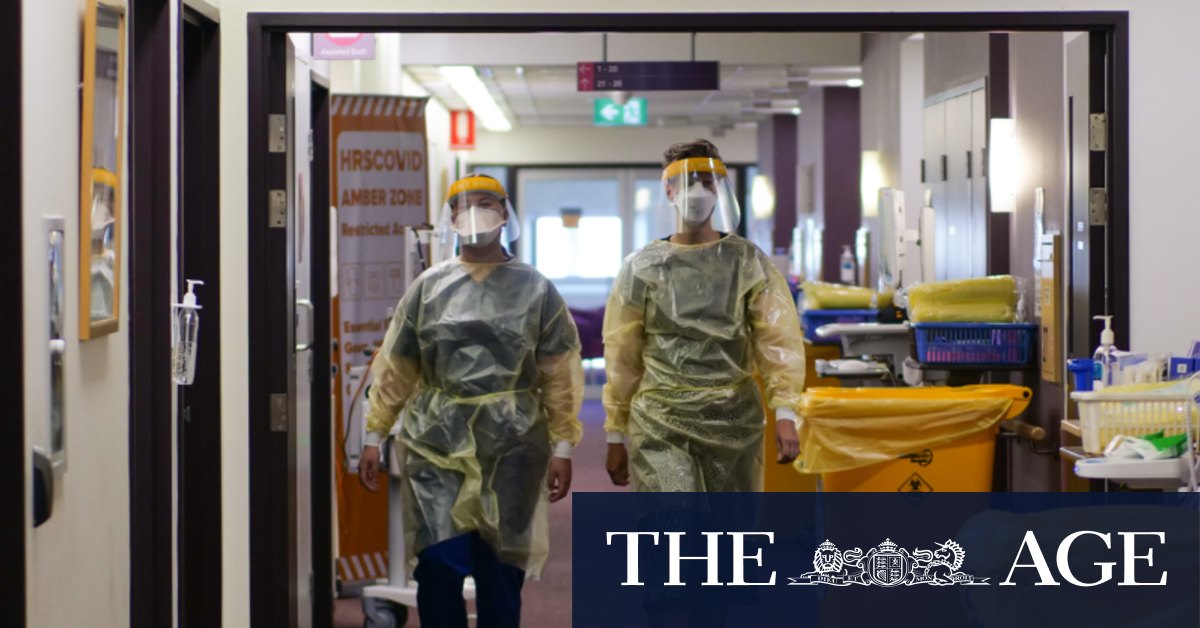 More than 100 GPs and pharmacies across the state will also provide additional appointments during the vaccine blitz.
To date, almost half of Victorians aged 70 and over have received a third dose of the vaccine, compared to 37% of those in their 60s and 33% of those in their 40s and 50s.
Professor Rhonda Stuart, an infectious disease expert who heads the health department's South East Public Health Unit, said boosted patients were less likely to be infected with the virus and showed fewer signs of infection. symptomatic infection.
Professor Stuart said less than 5% of patients in intensive care units across the state received a third dose.
"We have learned a lot over the past two years. We learned how to deal with COVID and we learned a lot about how to control COVID," she said.
"I think the most important lesson we are here to discuss today is vaccination and the importance of booster shots."
Prof Stuart also warned people against 'catching COVID and be done with it', saying immunity after infection waned faster than that provided by vaccination.
"My advice would be that's not the way to go," she said. "We see young, fit and healthy people being admitted to hospital with Omicron, we are seeing people being admitted to intensive care with Omicron.
Loading
"But we also see very sick people in the community being bedridden, having high fevers, shaking, chills, terrible muscle pain. I wouldn't wish that on anyone.
She urged people to get vaccinated as soon as they recover from the disease. "We now know that Omicron is 10 times more likely to re-infect someone than Delta."
Victoria recorded 20,769 cases of COVID-19 and 18 deaths on Wednesday as hospitals across the state, bent under the Omicron wave, activated "code brown" emergency protocols.
Those who died were in their 50s, 60s, 70s, 80s and 90s, and their deaths bring the total number in the state since the pandemic began to 1,737.
The state government declared the emergency code on Tuesday morning after record numbers of coronavirus patients and widespread layoffs of staff threatened to overwhelm Victoria's struggling health system.
Under alert code brown – normally reserved for short-term emergencies like bushfires – hospitals can roll back furlough for healthcare workers to fill staffing shortages. It will apply to all metropolitan hospitals and six regional hospitals.
Acting Health Minister James Merlino said on Tuesday that hospitalizations would peak in the coming weeks, with more than 2,500 patients expected to be hospitalized at one time and up to 100 new admissions a day.
"Our hospital system is under extreme pressure, and the risks we're seeing right now in COVID hospitalizations speak to that," Merlino said.
Victoria Department of Health Deputy Public Health COVID-19 Commander Claire Boardman, who intended to stand as an independent candidate for outgoing Health Minister Greg Hunt's seat in Flinders, announced on Wednesday that she would not contest the next federal election.
Loading
"I believe I can best support the Victorian Department of Health community, working with all three levels of government to help Australians through these very fragile times," Ms Boardman said in a statement.
Around 800 Victoria Police officers self-isolated due to COVID-19 on Wednesday, although the force said the shortage was not affecting service delivery.
"While Victoria Police have received an initial supply of rapid antigen tests and more are expected shortly, we have not yet been able to secure a consistent and reliable supply to cover the number that would be needed. to test all employees currently in isolation," the force said. said in a statement.
"It is hoped that these supply chain issues will be resolved in the coming weeks."
What is a code brown?
Code brown is a measure to relieve pressure on hospitals.
The measure is usually reserved for sudden, short-term emergencies, such as a train wreck or bushfire (for example, a code brown was called during the 2016 stormy asthma episode).
During a code brown, hospitals may cancel staff leave to ensure adequate manpower is available.
They can also postpone less urgent services.
This code brown begins at noon on Wednesday. It should last between four and six weeks.
It will apply to all metropolitan public hospitals. In regional Victoria, Geelong's Barwon Health and the Grampians, Bendigo, Goulburn Valley, Albury Wodonga and Latrobe Regional Health Groups are also included. Private hospitals have the option of calling their own code brown.
There are now 253,827 active COVID-19 infections in Victoria. There are 1,173 hospitalized patients, including 125 in intensive care and 42 on ventilators.
Steven McGloughlin, director of intensive care at Alfred Hospital, told radio station 3AW his ward was feeling the strain of the Omicron wave.
Associate Professor McGloughlin said around half of patients admitted to the unit had been diagnosed with COVID-19, and a small number were fully vaccinated against the virus.
"There are people in intensive care who have had two injections, even a few people have had three injections," he said. "But when you look at the…millions of people who are being vaccinated in Victoria, and the proportion of people going into intensive care, it's overwhelmingly clear that vaccination is protective."
Loading
Associate Professor McGloughlin welcomed the Code Brown statement, saying it would help the system as a whole. But he added that additional measures were needed to prevent the cancellation of surgeries in the future.
"It's been going on for a long time now, and we really need to fix it."
Among the new cases announced by health authorities on Wednesday, 10,726 were diagnosed by PCR testing and another 10,043 were self-reported results of rapid antigen tests.
Of those who self-reported their positive result, around 62% took their rapid antigen tests on Tuesday. About 19% took their tests on Monday, while the rest took them in the previous five days.
The latest cases come as the shortage of rapid home tests continues to pose a major challenge across the country. A survey published by Professional Pharmacists Australia on Tuesday found that more than 90% of chemists struggled to secure a steady supply of sought-after kits.
Meanwhile, Australia's health watchdog is investigating reports that retailers are selling repackaged rapid antigen kits for a fee, despite warnings of multimillion-dollar penalties for companies breaking the rules labeling.
The probe follows reports of gas stations, convenience stores and supermarkets selling the wanted kits in zip-lock bags, sometimes missing components crucial for their proper use.
Readers who contacted this masthead reported instances where tests were sold in individual envelopes without the test tube used to hold the chemical solution the swab had to be dipped in to get a result. Others talked about buying kits inside sandwich bags and being asked to photograph the instructions.
More than 22,121 Victorians received a dose of the COVID-19 vaccine at state-run sites on Tuesday, increasing the state's vaccination coverage to more than 93% for people aged 12 and over. To date, 26% of eligible Victorians have received a booster shot.
Victorians have made 115,000 bookings to get a dose of the coronavirus vaccine over the past week. About 77,000 of these were for booster shots and 36,000 for children receiving their first dose.
As of Tuesday, there were more than 175,000 vaccination appointments available across Victoria over the next month, including 44,000 slots for children.
New regulations introduced on Wednesday mean essential workers in the emergency services, education, essential public services, child care facilities, transport and freight sectors no longer need to self-quarantine if they come into close contact with a confirmed virus case.
The change aligns these workers with those in health care and food distribution, who do not need to self-isolate after spending more than four hours with an infected person.
The Morning Edition newsletter is our guide to the most important and interesting stories, analysis and ideas of the day. register here.