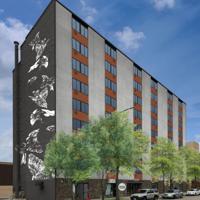 MANKATO — A proposed $20 million acquisition and renovation of Walnut Towers, Mankato's deteriorating downtown apartment building for low-income residents, would significantly modernize the 86-unit structure as early as 2023 if it received financial assistance from the city, county, and federal government.
The plan by Trellis Co., the potential buyer, would end concerns that downtown Mankato's tallest apartment building could be transformed from subsidized housing into high-end high-rise apartments for more affluent residents. .
The Minneapolis-based nonprofit is promising a $7 million renovation that will touch nearly every element of the 52-year-old building's exterior and interior, providing everything from a new restroom to a fitness room. passing by a mural covering the east side of the eight-story building. structure. And the modernized and improved apartments would continue to house some of the city's poorest residents.
Saving the walnut towers would be a welcome outcome for city leaders, who have worked for years to increase the supply of affordable housing in Mankato. Several projects are bringing new rent-controlled apartment buildings to various parts of the city, including one that just opened near Cub Foods west of downtown.
"But it's also about preserving affordable housing," said Mankato Community Development Manager Paul Vogel. "With this proposal, it looks like they're going to preserve affordability and solve some of the construction issues."
Trellis is willing to make a 20-year commitment to keep Walnut Towers, which serves people whose income does not exceed half the area's median income, as Section 8 housing. Federal tax credits, as well as Trellis' past practices, mean the building would likely continue to serve low-income residents for a long time to come.
"Trellis never sells its properties and strives to be your neighbor for decades to come," wrote Dan Walsh, vice president of housing development for Trellis in a June letter to city officials. "Section 8 rental assistance will remain indefinitely."
In addition to multiple assurances that the building would be the sustainable home for its current tenants and future tenants with similar needs, the non-profit organization highlighted improvements it plans to the interior, exterior and tenant services provided. at Walnut Towers.
"The Trellis design team has been through Walnut Towers several times," Walsh wrote in his letter. "The property has a number of critical physical needs and worthwhile improvements."
Just over a third of the $20 million financial package would go towards the rehabilitation of the building and would transform both the exterior appearance of the 1970 structure, the 86 apartments spread over seven floors and the shared space such than the lobby, the non-profit organization promised.
Outside, the parking lot and patio would be renovated and landscaping would be added. The roof would be replaced, along with windows, metal panel siding, front sidewalks and driveways, exterior lighting and signage. The concrete walls would be cleaned. The east and west walls would be painted, and a mural would cover much or all of the east wall.
The project will "reconfigure and improve" interior common areas such as the lobby, community room, mail area and laundry room and add a fitness room, computer lab and small meeting room, according to Walsh. All finishes will be replaced, as well as lighting, boilers, water heaters and the fire alarm system.
In apartments, the renovations would add microwaves and built-in ceiling fans and replace flooring, lighting, appliances, bathroom fixtures, base moldings, cabinetry and bathroom treatments. window.
"In addition to physical needs, Trellis intends to enhance community life and support for property residents," Walsh wrote. "One way to do this is to add a part-time Services and Activities Coordinator to work with all residents and connect them to community resources and activities."
More than six years ago, the current owner tried to put together a financing plan to accomplish a similar renovation, warning that the future of the building as housing for some of Mankato's most needy residents was uncertain. It was even more of a threat due to a growing interest in downtown living among the area's wealthiest citizens, according to documents sent to city officials in April 2016 by Jack Spitzack, CEO of Lasson Management Inc., based in Owatonna.
"Walnut Towers is … at high risk of market conversion due to market strength and prime location," the project summary states.
"The project is tired and requires substantial rehabilitation of the building's residential, common and exterior spaces. … The loss of this project would constitute a significant loss of affordable housing in the Mankato market.
This has been a major concern for city leaders, enough for the city council to include the preservation of the walnut towers among the priorities of its five-year strategic plan.
"If a project like this was converted at market rate, the question is what would you do with the residents there?" said Vogel.
Although there was a new affordable housing complex for them elsewhere in Mankato, Walnut Towers tenants – many of whom are elderly or disabled and do not drive – often depend on services within walking distance of a downtown apartment- town.
"Many residents rely on the proximity it offers to other social services and support infrastructure found in the city centre," Vogel said, mentioning the nearby supermarket and pharmacies. "It's walkable. It's accessible. »
Although Lasson Management's efforts to put together a financial package to modernize the building were unsuccessful, Trellis is ready to give it a shot. The 31-year-old organization plans to finalize its purchase of the property this month, apparently confident it will ultimately win in the intense statewide competition for a limited number of federal tax credits. for affordable housing granted by the Minnesota Housing Finance Authority each year.
"Trellis will purchase the property with interim acquisition financing with the goal of securing permanent financing over the next two years for a substantial renovation," according to Walsh's letter.
A financial summary of the Trellis proposal shows that equity tax credits provide $12.7 million of the $20 million in financing needed for the purchase and renovation. A private mortgage would provide most of the rest. But the funding plan has a $650,000 gap that the city and Blue Earth County are being asked to fill — $275,000 from each local government, most likely federal pandemic recovery funds, and $100,000 more of the city, tapping into its Federal Housing and Urban Development allocation.
As a strong demonstration of local support, these contributions will also generate points for the project in the formula Minnesota Housing uses to select tax credit contest winners.
Monday night's city council will be asked to pass resolutions authorizing its local contributions and supporting Trellis' tax credit application, which must be submitted by July 14. An announcement of the winning candidates is traditionally made by Minnesota Housing in November.
Trellis, formerly known as Community Housing Development Corporation, manages more than 40 affordable housing properties in Minnesota totaling nearly 4,000 units, including several properties acquired to prevent conversion to market-priced housing.
While most of its properties are in the Twin Cities, Trellis has a few outside of Minnesota. A nearby example is Emerson Union, the 49 affordable workforce housing units created in part of the former New Ulm Middle School, a historic building that also houses the State Street Theatre.